Team 5099 Northport Robotics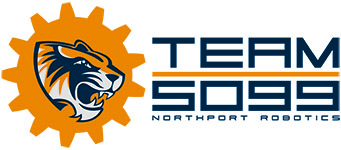 Team 5099 is a FIRST Robotics Competition team based at Northport High School in Northport, New York. The team was founded in 2013 by teachers Bill Claps, Daniel Moy, and Greg Robinson. Working with community mentors, top students in the areas of technology and engineering, science, and math spend the competition's build seasons designing and manufacturing partially autonomous robots. The Northport Robotics Booster Club is a registered 501(c)3 organization run by parent volunteers and made up of family, community members, and others who want to support Team 5099. Every dollar raised by NRBC goes towards assisting Team 5099 as they build and compete.
Please consider making an apparel purchase today and help support Team 5099.
For more info about Team 5099, check out: https://Team5099.com and https://team5099boosters.com
The last day to order for the group pre-order is Sunday, December 10, 2023; please allow about 3 weeks for the Team 5099 merchandise after this date for pick up. Thanks again, Team 5099!
Showing all 4 results